Scalp issues are one of the most common causes for unhealthy hair. Here we will address some of the most common problems like itching, dryness, flaking and oiliness.
So here's the thing, we only ever want to fix something once it becomes a problem instead of looking at the root of the problem. It's the same with our hair; if we concentrate on the root then there will be no problem.
What do we really know about our scalp? No it's not just skin. it differs in the fact that it has a high number of lipid and sweat glands and is home to around 100,000 hair follicles. Those lipid and sweat glands combined with the strands of hair means that our scalps can get dirty and sweaty far more easily than other areas of our body. Keeping your scalp healthy and clean is the key to beautiful hair.
So what are major issues when it comes to our scalp:-
1/ ITCHY SCALP
This generally shows that you have a sensitive scalp. It can be due to a number of factors like, pollution or UV rays which can lead to inflammation and itching. It can also be caused by more internal issues like anxiety and stress and it can also be just down to the products you use. Some products you may find way too harsh for your scalp. So I'd maybe start with that one. Why not change your shampoo to a more sensitive formula. At our hair salon in Crouch End we would always recommend Kerastase Specifique Bain Riche Dermo-Calm.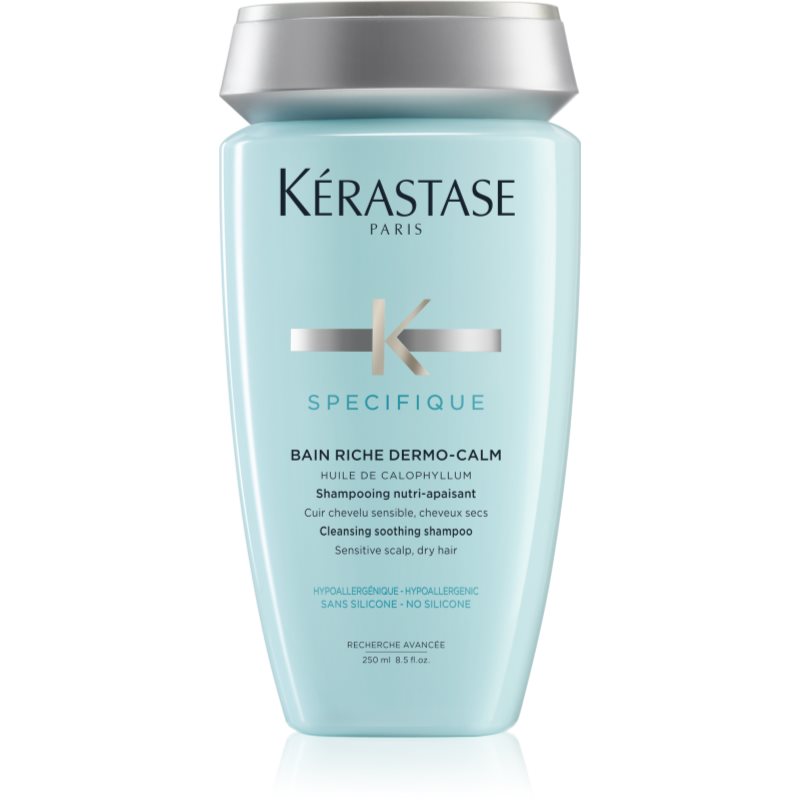 This shampoo cleanses the scalp and helps with any discomfort with dry hair. Infused with Calophyllum Oil and Glycerin with soothing and calming properties, the scalp is gently cleansed, soothed and rehydrated whilst lengths and ends of the hair are nourished. Hair regains lightness and vitality. This is our go to product from our full range of shampoos and conditioners in our back wash bar.
For seriously irritated scalps try Specifique Cure Apaisante, the kit contains a leave-on scalp treatment that you apply three times a week for four weeks. A three-pronged approach, the formula soothes irritation, hydrates and protects the scalp against the environment.
2/ DEHYDRATED OR DRY SCALP
So this is different:-
A dry scalp is usually genetic and generally what you are born with. In some cases it can lead to eczema.
Whereas a dehydrated scalp could be caused by a number or things like stress or just something as simple as central heating. A dry or dehydrated scalp is likely to feel tight and you may experience some unwanted flaking.
So how do you fix these it?
Well the first suggestion is an easy one, water! We should drink at lease eight glasses of water a day to be completely hydrated (that means water, not coffee or wine!)
Lemon juice is also one to try. Not only does lemon juice help to reduce itching and remove dead cells, but it also helps to lock in moisture. Try a mixture of fresh lemon juice and honey in your hair, and rinse it out after several minutes.
Factor a hydrating mask into your routine that you can use on the scalp. Most hair masks are rich and heavy, designed to nourish the ends of your hair but Masque Hydra-Apaisant Hair Mask is a silicone-free gel formula that should be massaged into the scalp and extended through the lengths of the hair. Left on for three minutes, it has a cooling and soothing effect on the scalp, it nourishes and balances the skin while leaving your strands soft and beautiful.

3/ FLAKY SCALP
A flaky scalp can be embarrassing and sometime damn right annoying. That beautiful black jacket that you'd love to wear but makes you nervous as you know you'll be spending your day brushing your shoulders to rid off  the flakes. So what causes a flaky scalp?
There are various conditions that may cause a dry flaky scalp. Eczema, psoriasis, dehydration, poor nutrition and even shampoo can all be harmful to your scalp. However, it is possible to restore your scalp's health - from dry and flaky to soft and smooth.
Don't wash your hair so often. Try to wash your hair three times a week or less if possible. This will help  restore the natural oils in the scalp. Oh and rinse with warm water rather than hot. This again will strip the oils if too hot.
Diet. A good sauce of oily fish, lean protein and green leafy vegetables is a way to eating yourself to a healthy scalp.
Olive Oil massage.  Olive oil can restore the scalp's moisture balance. For best results, try this home remedy:
Mix the juice of 1 lemon with 2 tablespoons of olive oil in a bowl.
Warm the bowl in a tub of hot water.
Massage the lemon/oil mixture onto your scalp, being careful to avoid any blistered areas.
Soak a towel in the hot water, then wrap your hair in this towel and leave for 10 minutes.
Wash out the mixture using a mild shampoo.
Make sure you use a good anti dandruff shampoo. The Bain Anti-Pelliculaire, an anti-dandruff shampoo, acts on two types of dandruffs, dry and oily flakes. A cleansing action eliminates impurities from scalp. The anti-relapse action treats the scalp to remove visible flakes from recurring for up to 8 weeks
4/ OILY SCALP
Well this is something that we really should dislike too much as we want these sebum oils. Without them our skin wouldn't be looking it's best but too much isn't great either.
Microscopic sebaceous glands secrete a waxy oil called sebum. Sebum is our natural moisturizer that softens and waterproofs our skin and hair, among other things. We have the greatest number of glands on the face and scalp, and none on the palms of our hands and soles of our feet.
I asked our hair experts at Crouch End, Avalon what type of hair they would say was the most oily. They all came back with the same answer, people with fine or straight hair.
The reason that people with fine hair are more likely to complain about oiliness is simple: There may not be enough hair to fully absorb the amount of sebum their scalps produce. Straight hair tends to look oilier because the sebum travels easily from roots to tips without curls or kinks as obstacles. Fine, straight hair can spell double trouble. People with curly or oily hair complain of oiliness at the roots and dryness at the tips because oil builds up close to the scalp, and because curls act as obstacles, it doesn't travel as efficiently down the hair shaft.
So how to get rid of oily hair?
Cool rinses - Hot water stimulates sebaceous glands and encourages them to produce more sebum.
Less shampooing - I know this is the last thing you'd want to do if you have oily hair but it's a viscous circle. Detergent strips your scalp of sebum – and your glands do an admirable job of replacing them as quickly as possible.
Try Bain Divalent, this shampoo is specifically designed for oily roots to balance the scalp and limit the overproduction of oil, so your roots get greasy less quickly. What's clever about the formula is that it also nourishes your strands, so your hair is left soft, shiny and supple, while split ends are sealed.
As a thank you for reading this blog, we'd like to offer you 10% off any of our Kerastase products, just pop into the salon and quote our scalp blog offer. We look forward to seeing you soon.