10 Tips to Keep Your Red Hair Vibrant
Not yet ready to wave the summer goodbye? Think again! Red Leather hair colour is the beautiful look for autumn. Red, copper or strawberry, these shades of red can be deep and rich, or they can go soft and understated—but they all seem to come out quickly in the wash. While the picky pigments in reds require a little extra upkeep, these top tips from our color pros will keep reds happy and vibrant between applications.
---
01 INGREDIENTS MATTER 
Always opt for shampoos, conditioners, and stylers that are labeled "safe for colour-treated hair." Our Kerastase Reflection Chromatique Colour range are formulated to reduce fading colour or bring out unwanted, brassy tones.
02 SKIP THE SUDS 
True story: Water dulls hair colour, especially reds. Hold onto your pigment by shampooing as little as possible, and getting a good dry shampoo for the off days. Ours has panthenol and vitamin E, so it can cleanse hair without drying it out.
03 CHILL OUT 
When you do suds up, give just-conditioned hair a nice cold rinse to seal the cuticle and preserve your color. While some folks disagree on this one, we're decidedly pro. Added bonus? A spritz under cold water and you'll feel more alive than ever—promise.
04 DEEP CONDITION 
It's no secret that healthy hair means better colour, and this is especially true for reds. Get ahead of process-worn locks with a moisturizing deep conditioner the day before your colour application, and once a week thereafter.
05 STICK TO YOUR ROOTS 
Our colour professionals at Avalon will always recommend that we touch up the roots and only refresh the ends so as not to cause over-processing or over-darkening results. So if you decide to try this at home keep touch-ups strictly to regrowth, and avoid overlapping.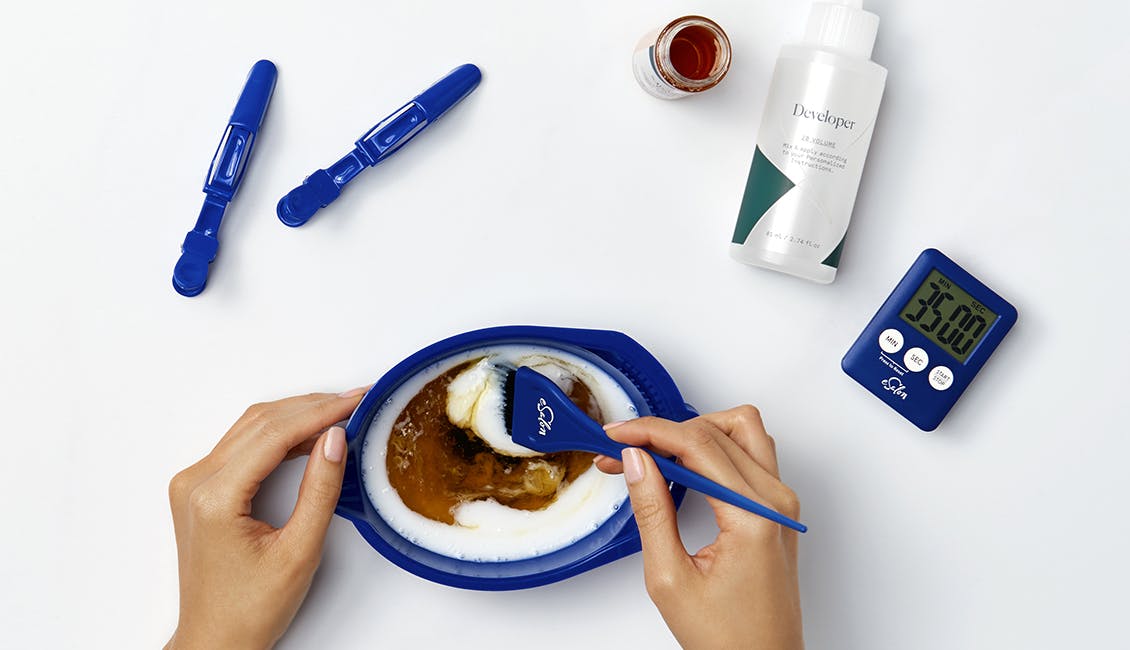 06 ADD BACK PIGMENT 
Look alive between colour applications with an enhancing treatment like Avalon colour gloss and tone—the colourist secret weapon here at North London Hair Salon. It's available in a range of shades, so you can target your treatment and prevent the fading that can happen over time.
07 REFRESH REGULARLY 
Because of the nature of red pigments, redheads need an all-over colour boost more often than their blonde or brunette counterparts. So for consistently rich, even color from root to tip, be sure to keep those colour refreshes regular.
08 WEAR A HAT 
The sun is another serious culprit in the case of dulling colour. Extend the life of your shade (and protect yourself from UV rays) by covering up whenever you hit the great outdoors.
09 CONDITION TO SWIM 
Between dried-out strands and altered tones, pool water can be colour kryptonite. You can avoid over-chlorination by wetting hair with tap water and adding just a tad of Kerastase Kérastase Elixir Ultime before you take a dip. Better yet? Try a swim cap.
10 PROTECT AND SHINE 
Did we mention that sun fades color? Because it really, really does. Put your best red forward with a daily leave-in conditioner that also has UV protectant properties.
This article was written by Debbie at Avalon at our Crouch End Hair Salon specialist.