Olaplex hair treatment: Everything you need to know
Olaplex is the hair treatment buzzword that currently we're ALL OVER.
Kim Kardashian is paid a lot to endorse beauty products, so when she recommends something just because she genuinely loves it, you know it's bound to be good. Enter: Olaplex. "When your hair is really damaged, if you sleep in that, it really works. I notice a huge difference," she said of the product that's making the rounds in beauty circles. But what exactly is Olaplex?
Let's just get something straight: Olaplex isn't just another hair conditioning treatment. In fact, it doesn't use the word *conditioning* – often just a buzzword for one-off high-shine and smoothness – anywhere in it's advertising. What it is, instead, is system that permanently rebuilds the damaged disulphide bonds in your hair that are broken during the chemical process. If you've over-bleached over the years, Olaplex allows you to rebuild the strength, structure and integrity of your hair; a 'reset' for your locks, if you will. The system has allowed colourists to do work that they'd only ever dreamed of before. Black to blonde in one session. No problem.
Cinnamon Chocolate Colour  – Autumn 2017
Why not try Cinnamon Chocolate this autumn? The trick to nailing this perfect autumn colour is the contrast created when an auburn tint warms up dark hair (think maroon liner bringing out green eyes but it's your hair).
Thinning hair problems

If your layers suddenly seem to be thinning out, or you've just found a larger clump of hair in your shower drain than usual, try not to panic—although hair loss can be a total cause for a freakout, there is hope. If you notice your hair is thinning or falling out, the first step is to observe the rate and pattern of the hair changes. If it is gradual thinning that appears similar to a relative like a parent, it is more likely to be inherited female pattern hair loss, which can become more severe with age. Genetics aside, factors like chemical processing, a hormone imbalance, as well as both physical and psychological stressors (like certain medications, or illnesses) can also contribute to hair loss. If you're losing strands suddenly and in major quantities, make sure to see a doctor sooner than later. One of the most common mistakes people make when trying to address thinning hair is waiting too long—the further along the process of hair loss, the harder it is to rescue follicles and improve the appearance. Some causes of hair loss are due to underlying medical or autoimmune conditions and can be reversed if treated early. Kerastase Bain Prevention and Spray Stimuliste are both great products for improving thinning hair. Ask one of our experienced stylist for advise on this product.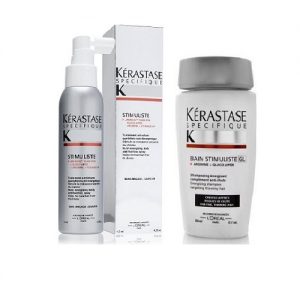 Top Ten Tips to Achieving the Ultimate Festival Braid 
1. Braid when wet
Braid the hair when it is damp to create a tight and secure finish. The water traps in unruly hairs to the plait, meaning less fly-aways.
2. Add texture
Before starting the braid, spray or tap on a texturizing spray or powder all over the hair. This will calm the frizz but also give hair volume – perfect for a quick and simple messy look. It will also lock in all the hair and make the style secure.
3. Start simple
There's no need to jump straight into complicated French plaits and fishtails if you've never given braiding a go before. Start with a simple plait down the length of a ponytail, or even plait the two ends of pigtails and tie them together. By slowly working up to your braiding technique, you will soon be a master of the more unusual styles.
4. The 'Halo'
Think Game of Thrones and a simple ethereal look and the halo braid is the hairstyle of choice. Also known as the crown braid, it is created by plaiting a long ponytail and then wrapping around the head and across the front, and pinning to the side, creating a wide circle.
5. Have fun with a fishtail
If you're looking for an alternative to the simple plait, then this is the style for you. Start by dividing a ponytail into two ponytails. Take a piece of hair from the left length and bring over the top of the right. Repeat with the right ponytail, taking an inch of hair over to the left. Continue as you go down until you run out of hair, and secure with a band.
6. Sleep on it
For a messy stylish braid, French plait the hair before bed and sleep on it. In the morning, simply spray with hairspray to secure for a perfect boho braid.
7. Spray and secure
Always remember to secure your braid with hairspray after completing. A fixing hold spray is best – just add a light dusting across the whole head. This will ensure the style is kept in place throughout the day.
8. Pull out strands
If you need a messy braid quickly, just pull out small strands from each section. Using a small barber's comb can make this easier, just be careful not to completely loosen the plait.
9. Curl or wave first
Braiding curly or wavy hair will give the style an instant boost and added volume, especially around the crown. Just simply curl or wave using large tongs – a great tool for beach boho styles this summer.
10. Add extensions
Long hair is best for some braided styles but don't worry about short or layered hair – simply add clip-in hair extensions that can be worn whenever you want. These are perfect for plaiting. 
Mal de Pierres Premiere – 15 May 2016
Kendall Jenner paired metallic smoky eyes with sculpted skin on the red carpet, whilst her hair was swept back from her face in a wet-look style.
Bronze Tones

Deep bronze tones with flashes of peachy blonde make up this stunning shade. 
Denim shades

Hair colour has become playfully expressive over the last few years, allowing fashion followers to personalise their hair to work with individual style. Bright block colour kits are all over the high street shelves and salons are transforming hair into multi-coloured works of art. 'Denim' is the latest colour offering: a gorgeous multi-shade swirl of pastel blues which is ideal for spring.
Get the Tousled Look
Whether you have always envied Brook Shield's tousled tresses from the 1980's flick The Blue Lagoon, or you just want the latest look all the Hollywood starlets are sporting, the latest trend is tousled tresses…..again.
Tousled tresses are actually a very loose wave and work on just about any length hair. If hair is longer the waves may be a bit more subtle.